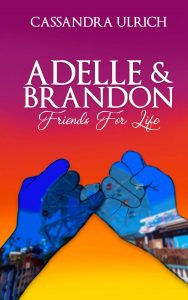 Are Adelle and Brandon destined to be friends for life or will he finally see her as something more?
Reviews for Adelle and Brandon:
A Kindle customer says "This was a fun young adult read. It had messages of being true to yourself and taking chances. Well written book that will have you believing in love all over again!"
Sean thinks he can beat Gina at pool. She'd like to see him try. No guy has beaten her yet.
Who will be the overall pool champion?
Gina is ruthless at her favored game.  Will Sean's endearing nature cause her to falter?  Her heart has experienced enough heartbreak to last a lifetime.  This game can have only one winner…and it's got to be her.
An introduction:
Gina, a female pool shark, has yet to find her match around any pool table in a local NYC bar.  That is, until Sean shows up to represent his friend, Pete, and the other guys in a show of how men can take back the game.  Gina would not be so easily overcome.  Her prowess at the table pushes his limits.  How will he thwart her game?  Will she allow his friendly disposition to throw her off guard.
Blog Interviews/Reviews/Guest Posts for
Billiard Buddies:
June 12, 2014 with Carmen Stefanescu
September 8, 2014 on Keith Publications
Reviews for Billiard Buddies:
Carmen Stefanescu says "Billiard Buddies is a pleasant pastime read for a rainy afternoon, making you feel good. The author, Cassandra Ulrich, has a great handle on her characters' personalities and uses them to tell a lively and creative tale of love. A story that's heartwarming and keeps you wanting to know what happens next. Gina is not only a great kindergarten teacher but also a talented pool player. She finds no match in any of the boys at the bar. Not at all. Until she meets Sean.
"I hear you play a mean pool game," Sean started. He couldn't help but agree that she was cute, her round 1920's features hugged by blond curls that bounced just above her jaw line when she turned to face him. Her smile accentuated her sparkling eyes.
The pool game between Gina and Sean in Chapter Two is a masterful depiction of luring, foreplay and seduction. The detailed description of the billieard game is the proof that the author, Cassandra Ulrich, knows extremely well this interesting game.
Cindy and Hank are obstacles in the path of a burgeoning feeling. Gene the gay cousin is a character that counter balances the turmoil of emotions Gina and Sean pass through.
It is a typical story, girl meets boy, but at the same time a very interesting one. The hero was so lovable and funny and he kept a high spirit throughout the story. The heroine was strong and with a big heart. The sexual chemistry and romance are good. The romantic tension between the hero and heroine is the best I have seen lately. I liked heroine's grit combined with her innocence. I loved it all. Definitely going to look out for this author in the future. All said, I thoroughly enjoyed this novel."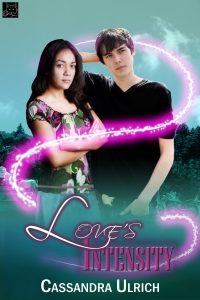 Rich bad boy meets sassy Latina.
Blog Interviews/Reviews/Guest Posts for
Love's Intensity:
September 23, 2013 with Bookworm for Kids
September 24, 2013 with Darlene's Book Reviews
September 25, 2013 with Unabridged Andra
September 26, 2013 with Musings From An Addicted Reader
September 27, 2013 with Love, Laughter, Friendship
January 31, 2014 with Sarah Cass
February 8, 2014 with Eloreen Moon
February 14, 2014 with Romance Lives Forever
March 1, 2014 with Angela Smith
March 17, 2014 with C.M. Michaels
May 26, 2014 with DeNitta Tuttle
June 14, 2914 with Alisha Robinson
Reviews for Love's Intensity:
Bookworm for Kids  says "It was refreshing to read an inter-cultural romance. Kressa is a pure-blooded Mexican, and this is brought out very well – clashed against the all-American boy, Brad. ~ The characters are enjoyable.  ~ The romance was sweet, growing slowly with tons of uncertainty – like a real teenage romance does. I enjoyed the natural way this was dealt with and the unexpected problems that can arise in a cross-cultural relationship."
Darlene's Book Reviews says "My rating: 4 of 5 stars. I enjoyed the book, there was a lot of things going on in this story, some humorous, others drama. ~ I would recommend this book to young teens and young adults."
Unabridged Andra says "Both characters had motives and agendas outside of just"lurveee". This made for a much more interesting story in my opinion. I liked how the funny moments blended well with the dramatic ones. You have a blend of pacing, character development, and action that really made me want to keep reading the whole way through. The paranormal element was well done as well, making the supernatural ~ seem realistic and normal. I really enjoyed it! Definitely give this book a try if you like cute romances or just an overall good story!"
Musings from an Addicted Reader says "Filled with angst, nerves, and a few surprising elements to the story this was an excellent young adult read."
Love, Laughter, Friendship says "Wow, this book has a lot going on it but in a good way.  What would you do if found out that the "help" had a past with the very people that you worked for?  That's what Brad and Kressa face in the book.  Brad's dad was best friend's with Kressa's mom growing up and that [didn't] sit well with Brad's stepmom.    Loved that little conflict in the book.  Kept the adults interesting and not just window dressing in the book.  Too often parents in YA books are forgotten about or worse, just window dressing. ~ I highly recommend Love's Intensity…"
Blog Interviews/Reviews/Guest Posts for A Beautiful Girl:
February 5, 2012 with Kimberly Dana
Reviews for A Beautiful Girl:
Karen Kelly Boyce  says "I had the pleasure of reading A Beautiful Girl by Cassandra Ulrich this week. It took me by surprise! The author uses a unique technique of changing the point of view with each chapter. We see events from the point of view of the main character Sara Miller. In the following chapter, we see the same event through the eyes of her boyfriend Rick Conner. I found it interesting and refreshing to follow the story from different Points of View. When I was growing up I was taught that each story has three sides, yours, the other fellow's, and the truth. By writing her novel in this way C. Ulrich allows the reader to be the `truth' point of view. I found it fascinating. ~ The subject matter of childhood sexual abuse is important and eye-opening. There are so many children who find themselves in similar circumstances who would benefit from this novel."
Suzanne Y Snow  says "Ulrich takes on this delicate storyline with style and sensitivity that draws the readers immediately into her complex, yet identifiable, characters' world. She's definitely an up-and-coming author with plenty to offer."